John Myatt made his name in the art world as the man responsible for the most significant art fraud of the last 100 years. A skilled painter in his own right, Myatt put his talents to nefarious use by forging 200 works of the world's most recognisable artists. These were then sold for considerable sums by both museums and auction houses, under the impression that these works were originals.
Myatt was arrested by Scotland Yard detectives in 1995 and handed a twelve month sentence, but due to his cooperation during the investigation and good behaviour, he was released after just four months. Nonetheless, jail time became a goldmine of opportunity for Myatt. During his four months at Brixton prison, he received more commissions than many artists could dream of. He has since enjoyed an extremely successful career as an artist creating paintings known as "genuine fakes". Myatt has made a living painting on commission, as well as exhibiting his forgeries-openly, and to great acclaim-around the world.
To browse original John Myatt art and prints online, please visit our John Myatt artworks page here.
---
John Myatt's Artwork
It wasn't until 1983, at the age of 38, that John Myatt first discovered his talent for artistic mimicry. Moving from London to his native Staffordshire, Myatt's wife walked out, leaving him to care for two young children. He knew that his poorly paid job as an art teacher would not generate enough income, so started to recreate famous artworks in the hope of earning a little extra cash. But what started as a clever idea to help earn a living, soon turned into a lucrative yet turbulent career in the art market.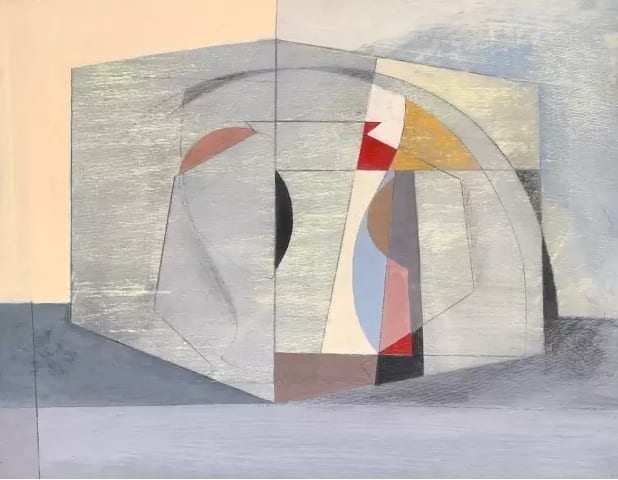 Still Life With Oval Motif, 1956, in the style of Ben Nicholson
After offering "genuine fake" nineteenth and twentieth century artworks through a classified advert in the back of Private Eye magazine (price: £150), a certain "Professor John Drewe" registered his interest. Professor Drewe, who claimed to be a nuclear physicist, commissioned fourteen paintings from Myatt, which gave the artist the opportunity to support his children during that time. Three years after first realising his artful skill for an art swindle, Myatt was able to make a living from his replicas.
After sending Drewe a cubist painting, painted after French master Albert Gleizes, he received a phone call from the professor to say that, thinking the work was an authentic Gleizes, the work had been valued by Christie's at £25,000. Drewe asked permission to sell to the auction house, and once Myatt accepted the offer, a brown envelope stuffed with £12,500 dropped through his letterbox the following week.
With one fake painting, Myatt's financial uncertainty had been stabilised.
---
Myatt's arrest and subsequent redemption
With the moneymaking potential of his work now clear, Myatt became further entangled in Drewe's scheme, with 200 forged works by the great masters being painted and auctioned off in the ensuing years. These included replicas of works by Matisse, Giacometti and Chagall. However, Drewe was as adept at fraud as the artist himself, conning Myatt out of the majority of their shared profits. It was Myatt's unhappiness with the shady way in which his partner was handling their finances which led him to sever his partnership with the so-called professor in 1993.
Two years later, an ex-partner of Drewe 'blew the whistle' leading to the arrest of Myatt by Scotland Yard detectives. Myatt assisted at every step of the way of the four year investigation, revealing the truth behind the fraud and providing the evidence to help prosecute ex-partner John Drewe. Due to his cooperation, Myatt was eventually given a lenient twelve month sentence for conspiracy to defraud. He was released just four months later on the grounds of good behaviour.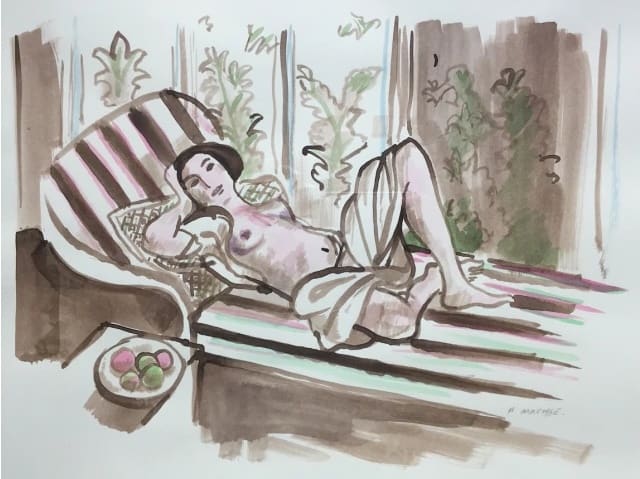 Matisse Drawing IV - Original, in the style of Henri Matisse
Myatt insisted he was done with the art world once he left Brixton prison in June 1999. However, many people involved with his trial, including the detective who arrested him and the barristers for the plaintiff, all requested that Myatt return to his easel to paint "souvenirs" of the case. It wasn't long before Myatt was back at work, creating works on commission for a select few members of the court.
Myatt has continued to paint, with customers stretching from the UK to Canada and the Philippines. He also helps detectives to expose fraudulent schemes and his television programme Fame in the Frame on Sky Arts has seen him paint portraits of celebrities including Frank Skinner, Paul O'Grady and Catherine Tate.