Ronnie Wood is perhaps best known for being a member of The Rolling Stones since 1975, helping to create some of the world's most iconic rock songs. As his music career flourished, Wood struggled to evade the gaze of the media who regularly documented his hedonistic lifestyle.

But away from the spotlight, Wood found solace in his art. Having received formal art training at Ealing College of Art, Ronnie Wood has been a prolific painter since his teens. He has described painting as being like therapy, and would create portraits of figures he admired. Elvis Presley, Jimi Hendrix and fellow band member Mick Jagger are just a few of those he has painted, along with other musicians, friends and family.
To browse original and signed Ronnie Wood prints for sale, please visit our dedicated Ronnie Wood art page here.
---
Ronnie Wood's ARTwork
Ronnie Wood's interest in art long precedes his breakthrough in music. Born in Hillingdon, Middlesex in 1947, he grew up as part of a creative family; his two older brothers were graphic artists and he followed in their footsteps, first showing a talent for painting at the tender age of three.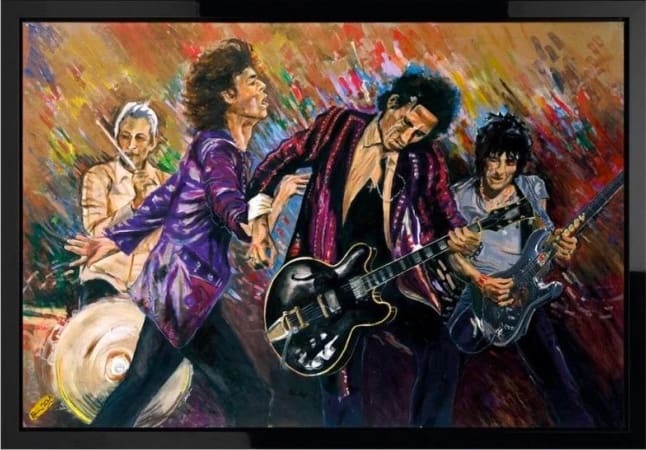 The Stones On Stage Got Me Rockin'
As a boy barely in double digits, Wood "bombarded" the BBC's late fifties art programme Sketch Club with his artworks; not only did he eventually have his paintings put on display on the show, but he later won a competition to have them exhibited at the host's gallery. Ronnie described this achievement as his awakening to art. After nurturing his abilities throughout childhood and into his teenage years, Wood enrolled at Ealing College of Art in London, studying alongside his future peers in the rock scene Pete Townshend of The Who and Freddie Mercury of Queen.
In 1964, Wood's attentions shifted from art to music when he joined rhythm and blues band The Birds as a guitarist. In the years that followed, he jumped from group to group, having spells with freakbeat pioneers The Creation, The Jeff Beck Group and, most notably, The Faces. When that band broke up in 1975 to allow their frontman Rod Stewart to concentrate on his stratospherically successful solo career, it neatly coincided with Rolling Stones guitarist Mick Taylor leaving the band. Wood's long-time friend Keith Richards invited Ronnie to join as Taylor's replacement, and he has remained a member ever since, enjoying unprecedented international success.
Wood's music career has taken him around the globe, playing some of the biggest stadium shows in history to record-breaking crowds, but not once did the bright lights of stardom shake off Wood's interest in his art. He made his first prints, a collection of monotypes and woodcuts, in the USA in the 1980s. In 1987, he spent months in an English printmaking studio, honing his craft. His printing techniques include drypoint, woodcut, screenprint and etching. Wood has also worked in cutting edge modern mediums, utilising iPad apps to make more minimalist sketches. Primarily though, Wood is known for his paintings.
---
Wood's artistic influences
Ronnie Wood has created portraits of many famous figures, including his fellow Rolling Stones bandmates, former collaborators such as Jeff Beck and Rod Stewart, and jazz and blues greats like Muddy Waters and Miles Davis. He has also painted actors such as Jim Belushi and Jack Nicholson, as well as self portraits, and depictions of his own family members, including intimate paintings of his wife.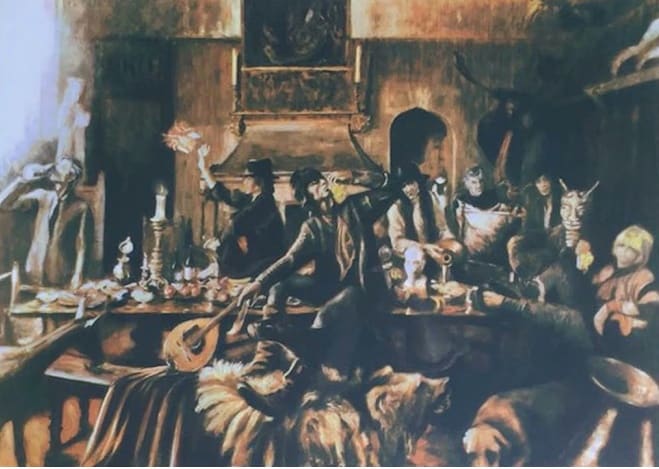 Beggars Banquet II, 1998
Wood has recently expanded into landscapes too, working with watercolour and pastel to bring nature to life. Just as his musical influences are made up of the blues greats of old, Ronnie Wood has been influenced by many past masters in his paintings. Post-impressionists Henri Matisse and Vincent Van Gogh, expressionist Egon Schiele, and cubist-surrealist Pablo Picasso are the influences which are most evident in his work.
Wood's paintings have been the focus of many exhibitions, including a major retrospective at Sao Paulo's Museum of Modern Art, and exhibitions all over the Americas and Europe, as well as a South Bank Show retrospective of his art in 2004.
In 2017, the first monograph of Wood's work, entitled Ronnie Wood: Artist was published by Thames And Hudson, gathering curated highlights of his sixty years of visual artwork, along with captions from Wood himself. The following year saw the release of Setlists, a second monograph focussing on the unique hand-painted setlists Wood creates for each Rolling Stones rehearsal and concert.
Though he is more likely to be remembered for his colossal contribution to the musical canon, Ronnie Wood's art is an important part of his creative output, and a unique piece of rock n' roll history. When the Stones are on a break from touring, he resides in his Hertfordshire mansion with his wife and twin daughters.