With a creative career that has spanned more than a quarter-century, Sebastian Krϋger has established himself as a promoter of New Pop Art whose objective is committed to unravelling the conundrum of identity and portraiture.
His portraits are a benevolent but subversive tribute to the superficial, and to the rock and pop culture of the sixties with which he has crafted an almost ritual relationship.
Browse and purchase from our collection of Sebastian Krϋger art here.
---
Sebastian Kruger's Artwork
Sebastian Krϋger was born in Hamlin, Germany on 30th June 1963. His interest in illustration began early, at the age of three, when he became obsessed with drawing the character of Donald Duck as he had seen in Disney movies and cartoons. Prevented from simply buying a Disney comic book by his parents, Krϋger would study and memorise images of the character, then quickly run home to draw it, going back to the shop if he believed he had forgotten any essential details. This formative experience gave Krϋger a keen eye for specificity in images, which ultimately informed the work he is best known for today.
After studying free painting at the Braunschweig University of Fine Arts—an experience he didn't enjoy at all—he made an early career painting VHS cover artwork, and as an illustrator and creative designer of record sleeves, predominantly for metal bands. His reputation grew as the designer of a number of cover spreads for the German press. A master of the craft, Krϋger has since painted artwork which ended up on the front cover of internationally-recognised publications such as Der Spiegel, Rolling Stone and Stern.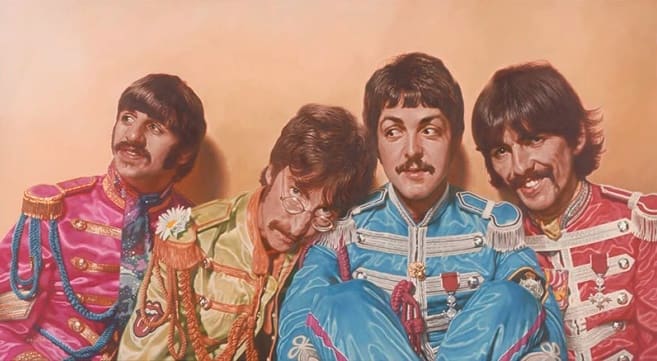 Four Saints
Turning away from commercial work in order to devote himself to the painting style he had studied at at art school, Krϋger found a way to evolve his previous 'star caricature' aesthetic into what he describes as New Pop Realism, a genre his works have come to define. These works range from pencil drawings, to near abstract paintings and the photo-realistic. His primary medium is acrylic paint, which enables him to craft paintings that are hyper-realistic in detail, but also somewhat grotesque in their distortion of bodily form.
---
Kruger's Artistic Influences
At times, the realism of his work presents an almost uncomfortably personal view of its subjects, and are not always flattering, offering a sense of psychological insight into otherwise untouchable public figures. Krϋger began to play with the interaction between identity and portraiture, looking to reveal in his paintings something that which is both authentic and fictional. He calls his art "a kind of game of deception", and notes that his realism is "a kindly meant but thoroughly subversive tribute" to the classic icons and imagery of pop culture. His most popular works include depictions of familiar cultural characters like the members of the Rolling Stones (his longtime friends), Steve McQueen and Louis Armstrong.
Mick in Montauk
Though the foundation of most caricature may rest in the exaggeration of the subject's features, Krϋger often ignores the obvious, and focuses on more subtle aspects. He takes great pains to learn about the people he paints through reading interviews and biographies, as well as observing images and videos of them in much the same way he did when creating those first drawings of Donald Duck as a child. Using the subtleties of colour and perspective, he conveys the essence of his subject in a most profound and amusing fashion. Despite sometimes-maniacal morphs, Krϋger approaches his subjects with a clear respect and sincerity.
---
Exhibitions and Workshops
Actively exhibiting since 2006, a year after formally retiring his more caricatured approach in favour of stricter realism, Krϋger's works have been shown around the world, between Gronau (Germany), London, Santa Monica (California) and New York. His first book, FACES, was published in 2008, receiving praise from reviewers and critics for the versatility of his creative interpretation. A second book, FACE2FACE followed in 2015, featuring over 140 full colour images of his most iconic paintings, many of which depict Rolling Stones legend Keith Richards. His art is celebrated as a must-have for all fans of celebrity and pop culture.
Krϋger also offers annual Masterclass workshops for the public near his adopted home city of Hanover, Germany, giving them an insight into his process, as well as offering instruction on how to create "Krϋgerized" portraits of their own.
Sebastian Krϋger lives and works between Hanover and California, USA.