Faye Dunaway, 1977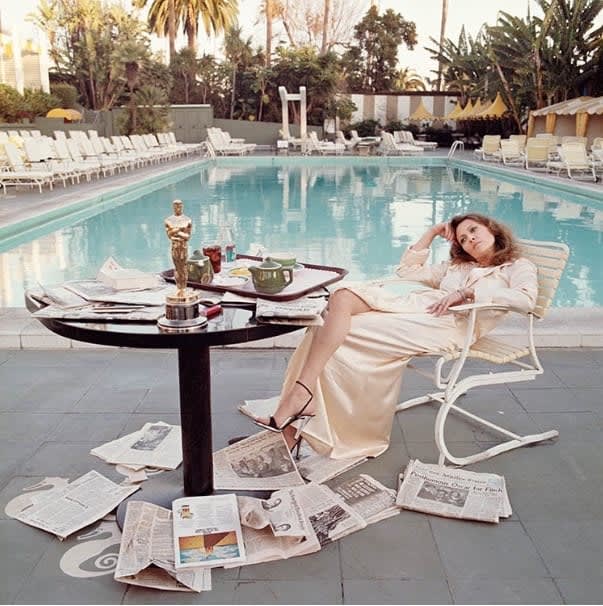 This iconic shot was taken in March 1977 at The Beverley Hills Hotel and is probably O'Neill's best-known work. Dunaway had just won the Best Actress Academy Award for her role in 'Network'. She had previously been nominated in 1967 for 'Bonnie and Clyde' and in 1974 for 'Chinatown'.
Dunaway was O'Neill's girlfriend at the time and they later went on to marry.
O'Neill said of the portrait: "I call this picture 'The Morning After'. I wanted to get a different kind of 'Oscar' picture – one to illustrate what the award meant to actors and actresses. Funny (sic) enough, I was photographing her on an assignment for People Magazine at the time — they always did a piece on the girl they think is going to win. Anyway, they picked Faye Dunaway, and while we were doing the pictures, I said to her, 'I've been to the Oscars before. If you win, they always take the same pictures of you receiving the statue in the press room.' I knew that wasn't the real story — the real story is the next day, when they realize suddenly they're getting all these offers to do films, their value goes from $100,000 to $10 million, and they're just sort of stunned. I wanted to capture that, so I told her my idea, and she was sport enough to do it early in the morning at the Beverly Hills Hotel. She got up at 6 a.m., and we got that great picture. She hadn't slept and the implications of a watershed event in her career were only just beginning to dawn on her. It's become one of the most Hollywood pictures of all time".
Vanity Fair said: "No image better captures both the allure and the loneliness of celebrity than Terry O'Neill's 1977 photograph of his then girlfriend Faye Dunaway reflecting by the pool of the Beverly Hills Hotel, the Academy Award she won the previous night posing on the breakfast table."
Terry O'Neill is among the most sought-after artists in the UK and his works are highly collectable.
Frank Sinatra, 1968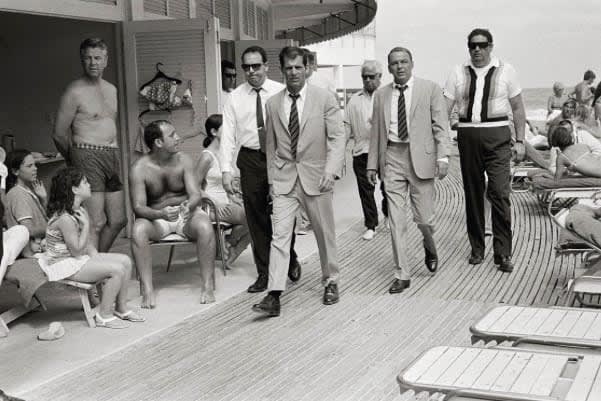 This iconic shot captures Frank Sinatra arriving with his entourage, including his stand-in identically dressed, at Miami Beach in 1968. Sinatra was there filming 'The Lady in Cement'.
O'Neill said of the shoot: "I got friendly with Ava Gardner…I told Ava, one day I'd love to get a chance to photograph your ex-husband (Sinatra). So she writes me this letter, [and] I'm waiting for Frank to come onto the set.. and he comes around the corner with about 4, 6 bodyguards and I suddenly realized what a giant of a man that he was. This was my first view of him and I handed him the letter and he read the letter, he said right you're with me, then he totally ignored me for the next three weeks. Which I realized now, or shortly afterwards, that he was giving me the biggest gift that anybody could give anybody. Because I could go anywhere with him, he didn't even acknowledge the fact that I was there, and I realized the secret of great photography is to fade into the background and make yourself, sort of, as invisible as possible. And that was sort of my first major lesson in taking good pictures."
Sean O'Hagan, Photography Specialist for The Guardian says of the image:
"The photograph's power resides in its ability to capture Sinatra's presence: the Sopranos-style minders, the look of admiration from the seated man on the left, the way the singer – and his double – both stare hard at the camera, neither offended nor surprised by it. (O'Neill had been introduced to Sinatra by Ava Gardner and was granted unprecedented access to the star.) It dramatises the darker side of Sinatra, a performer whose business interests were allegedly mixed up with the mafia for most of his career, and whose shadier connections were constantly monitored by the FBI"
Brigitte Bardot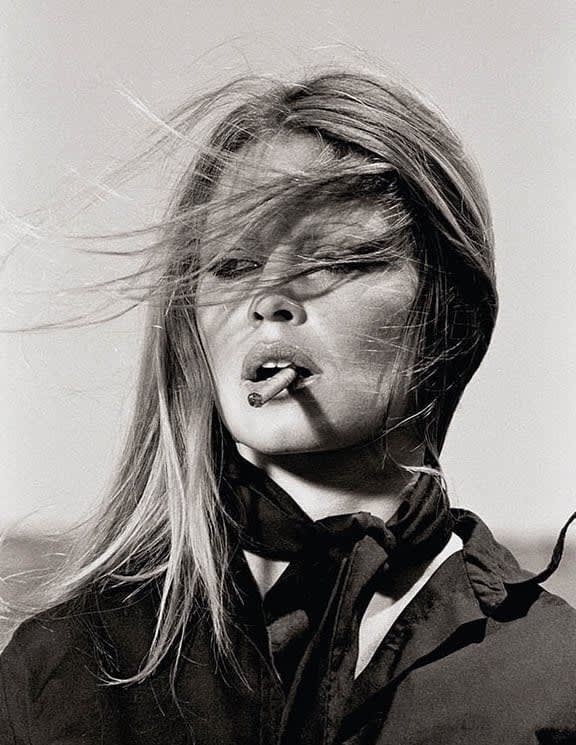 This iconic shot was taken in 1971 in Spain on the set of 'Les Petroleuses' a.k.a. 'The Legend of Frenchie King'. It is one of O'Neill's best-known images.
O'Neill said of the portrait: "I had been hired to get publicity images from the set (of 'Les Petroleuses' a.k.a. 'The Legend of Frenchie King'). I had photographed Brigitte before, although we never really became friends. She had a stature and a presence that were extraordinary. I found a spot some distance away from her. The wind was blowing, and she had a cigar as part of a scene. I was surrounded by hundreds of people, and was praying they didn't move or jostle me, as I had this perfect composition. I just wanted the wind to blow once more – and it did. Then everyone started pushing and shoving and I lost the place – but I knew I had that frame. It was a picture in a million".
The shot has been used on several magazine covers around the world.